You often hear stories of people towing things they really shouldn't be towing with their pick-up trucks and SUVs, all in the name of being able to 'tow stuff.' It made me wonder what kinds of crazy things people have dreamed up to have tow trucks demonstrate their strength, beyond the animated Godzilla vs tow truck or other such things you can find online.
Tow vs Tug
The first thing I came across, perhaps because it was the most recent, was a Chevron Delo Ultimate Tug of War that pitted a 500 horsepower 2007 diesel engine, 26,000 pound truck against a 900 horse power, 2012 repowered engine 16,000 pound bollard pull tug boat. Let's look at the competitors briefly.
The tow truck is uniquely designed
The bottom line in tow trucks is that they are uniquely designed to handle the engine, frame and tire wear specific to the work of towing. Though within the category of tow vehicles there are variations that may be more appropriate, depending on the job at hand, a tow truck, in general, is designed for towing things, even objects much larger and heavier than itself.
Typical uses, beyond standard cars, are boats, tractor trailers, and massive recreational vehicles. Keep in mind though that brute strength isn't everything. Tow trucks, especially flatbeds, are designed with vehicle care in mind and can handle classic antique models, the most expensive sport models, and motorcycles, carefully and gently. They can be equipped with specialized tools and accessories to handle difficult and dangerous rescue situations.
The tug boat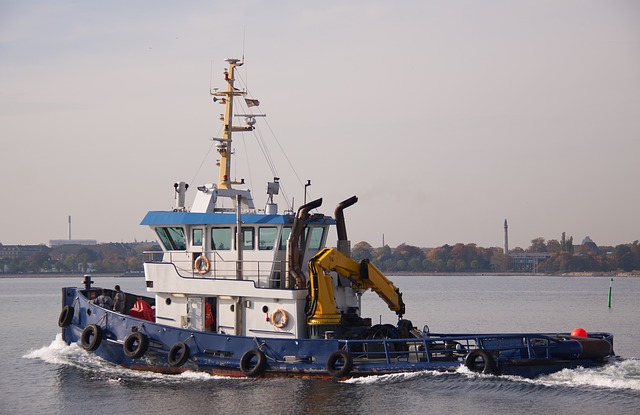 Tug boats are essential the tow vehicles of the sea and are used to maneuver vessels by pulling or pushing them. They can be used to get disabled vehicles to where they need to be and are used to move large ships that are in situations – such as narrow passages or crowded harbors – where they do not have the fine steering capabilities needed to navigate themselves.
Tugs are highly maneuverable due to a specialized marine propulsion system and have high power to tonnage ratios, often using engines similar to what is used in locomotives.
The contest
In the tow vs tug challenge, drivers on both sides were pretty confident their vehicles could handle anything and pretty confident in their own ability to win. Though it was back and forth for a while, in the end, the tow truck won out. In my opinion though, that may have been more a function of the water than anything. The tug was actually winning for much of the contest, until it shifted slightly in the water and then wasn't pulling straight on any more and that seemed to give the tow what it needed to take control.
Tow vs Tractor
There are all kinds of other scenarios where tugs are pitted in tests of strength. Another video – this one showing a tow truck pulling a heavy farm tractor – clearly proved the strength and capability of the tow truck as it literally lifted off its front wheels moving the heavy equipment.
There are other videos, of tow trucks pulling massive fire trucks out of ditches and mud pits, or various other vehicles being rescued from a variety of challenging situations by a tow truck. The point is, tow trucks are impressive and stand up against the toughest competitors in a battle of strength, more importantly perhaps, they do an awesome job of what they were designed to do – tow stuff.