Spark Towing is extremely happy to announce a brand new branch we're launching, this time in Anaheim. After many years of providing the most professional towing services in the LA area, we've decided to expand to the city of Anaheim as well, and decided to open new offices there. As always, our main goal is to provide the Anaheim community with the most professional towing services and live-up to their expectations and to our reputation.
Spark Towing in Anaheim is an important emergency service provider, helping drivers who are stuck and in need of immediate auto services such as towing, car lockout assistance and other types of roadside support.
Why Anaheim Drivers Choose Spark Towing?
There are many reasons that Anaheim drivers choose to use Spark Towing and our affiliate team of independent tow truck drivers.  Anaheim drivers know that whenever they call, we will immediately send a specialist out to help them and from that point on they don't have to worry.
Whenever needed, Spark Towing's team of professional towing operators is available.  There is always someone to help Anaheim drivers who have run into trouble, 24 hours a day, 365 days a year! In addition to round the clock availability, the team makes sure to reach all calls in the area as rapidly as humanly possible.
And, surprisingly enough, our excellent service does not come with a gigantic price tag. Spark Towing & its team of independent tow truck operators offer very affordable prices for its service to the local Anaheim drivers, as the company considers a vital priority the bond with the community and is proud to be able to provide service in times of emergencies.
Spark Towing's Excellent Team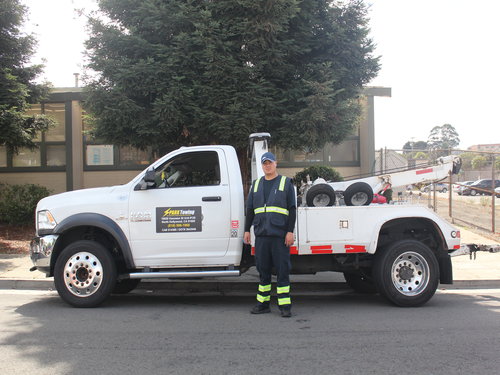 Spark Towing boasts a team of experts.  All team members have been highly trained and know how to work on all makes and models of cars.  The members of the team are all fully licensed to work in Anaheim.
The team's objective is to provide the best towing service around. That means that they are always ready to be dispatched at all times of the day and night and will reach each call promptly. They will do their utmost to do their work safely and as quickly as possible to get their customers back on the road.
The team makes sure to be prepared at all times.  Spark Towing's fleet of tow trucks is kept in flawless condition, always stocked with the latest equipment that will enable the team to carry out their job in the best possible manner.
Spark Towing's One Stop Shop
Anaheim drivers can enjoy Spark Towing's comprehensive range of car locksmith services.  Whatever auto lock & key service is needed, Spark Towing is able to provide it, including car lockouts, broken ignition key extraction and car key duplication.
Spark Towing Anaheim Services
This is a partial list of all the services provided in Anaheim:
Emergency 24hr towing
Local and long distance towing
Towing of cars, motorcycles, boats, trucks and more
Accident recovery
Wrecker Service
Remote gas delivery and refill
Battery jump start and replacements
Flat tire change
Car locksmith services (lockouts, key replacement)
Our Heavy Duty Towing Services:
RV Towing
Dump Truck Towing
Bus Towing
Limo Towing
UPS Towing
Tractor Tow
Utility Truck  Tow
Transportation Trailer Tow
Boat Towing
Construction Equipment Tow
Motor Home Tow
Heavy Duty Tire Change
Fifth Wheel Tow
Container Towing
Boat Towing
Car Care Products:
Our customers are welcome to visit us at our Anaheim offices for a wide range of top quality car care products. Whatever product you need for your vehicle, we most probably have it. And, at highly affordable rates!