Professional Towing Services In San Diego
Spark Towing is really excited to announce all its clients of yet another branch we're launching, this time around in San Diego. After many years of providing the very best & professional towing service in the LA area, we've set our sights in the city of San Diego and decided to open new offices there. As always, we'll strive to provide to the San Diego community the most reliable roadside assistance service and prove ourselves worthy of their trust, as we've done in LA.
Why San Diego Drivers Choose Spark Towing?
Spark Towing is a veteran LA towing company that has a strong bond with the local community in Los Angeles Area.  and the LA drivers have been using Spark Towing's services for years, so San Diego drivers can rest assured that whenever they'll need roadside assistance or a tow service that the Spark Towing team will be available to assist them.
Spark Towing always has a team on call, and by always, we mean 24/7 every day of the year.  Whether it's a weekday at 2am or a public holiday the team is there for you. Besides around the clock assistance, Spark Towing does not want its customers to wait and therefore promises an estimated time of arrival of 30 minutes to all calls.
Another benefit of working with Spark Towing is their prices.  To find out how much the service will cost you, just ask the dispatcher.  The dispatcher will give you a price quote so there are no surprises later. It is certainly worth the professional service you get from the Spark Towing team.
The Amazing Spark Towing Team
We would be lying if we said that we are not amazed by Spark's wonderful team of operators. All of Spark's team members are experienced towing operators who have undergone very strict training and are licensed to work in San Diego.  Nevertheless, the team still takes time to continue training and learn more about new developments in the towing industry.
"We want to be able to provide the best service possible and to do so we need to have as much knowledge of the field as we can get".
Between calls the team can be found training and maintaining Spark Towing's tow trucks and equipment.
"It's important to be ready for each and every call and to do so we must make sure that all of our equipment is up-to-date, in excellent condition and that we are ready to roll".
One thing is for sure – you are in excellent hands when Spark Towing's team is helping you!
How Spark Towing Can Help You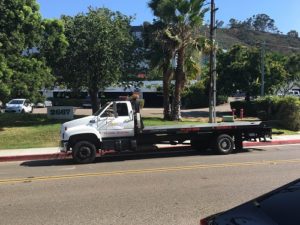 Spark Towing provides a range of auto towing services, roadside assistance and auto locksmith services. As well as emergency services at any time of the day or night.
This is a partial list of the services that Spark Towing provides in San Diego:
Local and long distance towing
Towing of cars, boats, motorcycles, etc.
Accident removal
Wrecker Service
Fuel delivery and refill
battery jump start and replacement
Car lockouts
Flat tire change